You sabotage your own success.
Are DISTRACTIONS stealing your day?
If you're tired of working hard -- but never getting the most important stuff done -- I've got a solution for you. Because you know, when you get really focused, you can totally rock it.  Follow these simple secrets to getting focused ... and get real things done ... things that will move your business and life forward.
Hi, I'm NJ (short for Norma Jean), and I'm a women's Success Coach. I help powerful AF business owners and entrepreneurs eliminate the sh*t that stops them from:
We all have success blocks and repeating patterns that keep us stuck, preventing us from moving to the next level of wealth, business, creativity, and fulfillment. I help my clients eliminate their bullshit (read: resistance) so they no longer feel held back.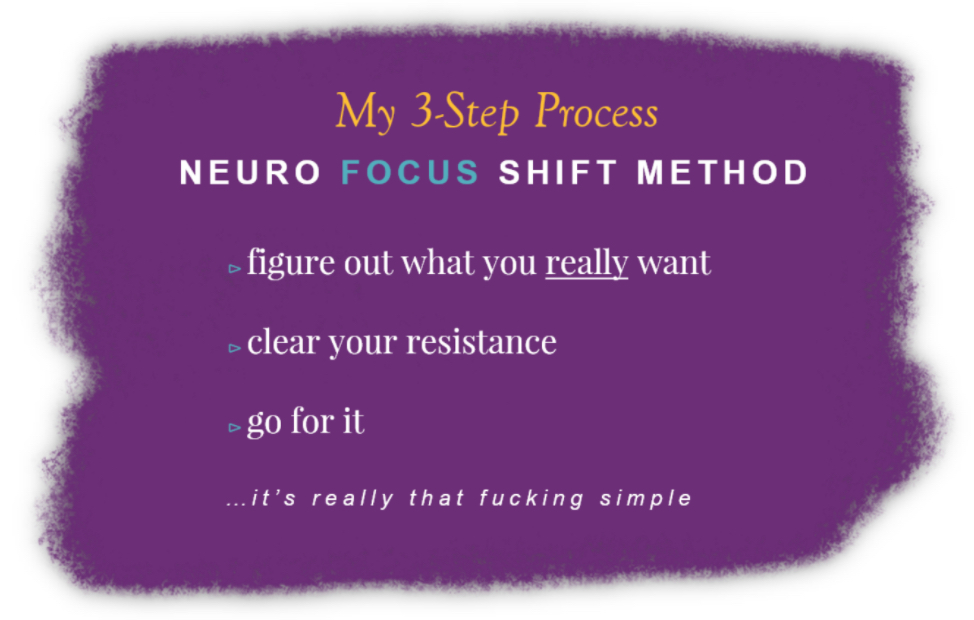 "I had a session with NJ yesterday and all I can say is OMG! Within about half an hour we'd worked out my blocks in terms of moving forward with growing my businesses.
I didn't realize how much I actually lack in self-awareness, I thought I was really in-touch with myself, I didn't even think I had any blocks!"
Let me guess? You've worked with coaches before and felt like you wasted your time and maybe your money.
Maybe you've worked with a coach before and didn't see any lasting changes. You slipped right back into your old ways like a matted-robe (we all have one) and nappy-ass pair of slippers. #comfort
You're over the hype. You're over the bullshit. And you're dead serious about getting over whatever the hell is making you walk in agonizing circles. If only there was someone who could see what you can't see and call it out (and gently guide you) through it to the other side.
WHAT YOU CONSCIOUSLY WANT IS POSSIBLE
You know you can have what you want, right? We've all had the experience of having a dream and then seeing it come true, only to realize it's better than what was expected.
The same thing goes for what you've been hoping for. Longing to get from where you're at now to that next step is natural. You've been feeling it for a long time now and you're actually ready for the big shift and leap.
Like you, I'm over the fads of flakey, useless strategies and coaching techniques. I don't work that way. I meet you right where you're at, identify that patterns that you can't see on your own, and walk you through the process of clearing them. The question is: are you fucking ready?
Join the Mastermind
You're not alone in your hungry desire to up level, in fact there's a group of women who speak your language in the Successful AF mastermind group.