Have you ever opened up social media to share something and sat there for what seems like eternity...
After starring at the screen wondering what the heck to say… you realize you've been 'networking' and comparing yourself to all the other entrepreneurs for almost an hour! And, you haven't posted ANYTHING.
You're watching the other women on your feed, asking yourself questions like:
How do they know what to say?
How did they get so many people to listen to them?!
Look at all their comments!
Why is this so hard for me?
Where do you get those emojis?!
We've all been there.
But, what if the reason you distracted yourself, by looking at everyone else for hours, truly came from a limiting belief system living deep in your unconscious mind that is terrified to shine and share?
What if nothing was wrong with you?
It's time for a simple solution plan. It's time to STOP BEING AFRAID OF THE LIGHT!
Join Gabi Garrett, published author and publicity guru and NJ Shelsby, award-winning mindset coach as they teach something like you've never, ever seen before.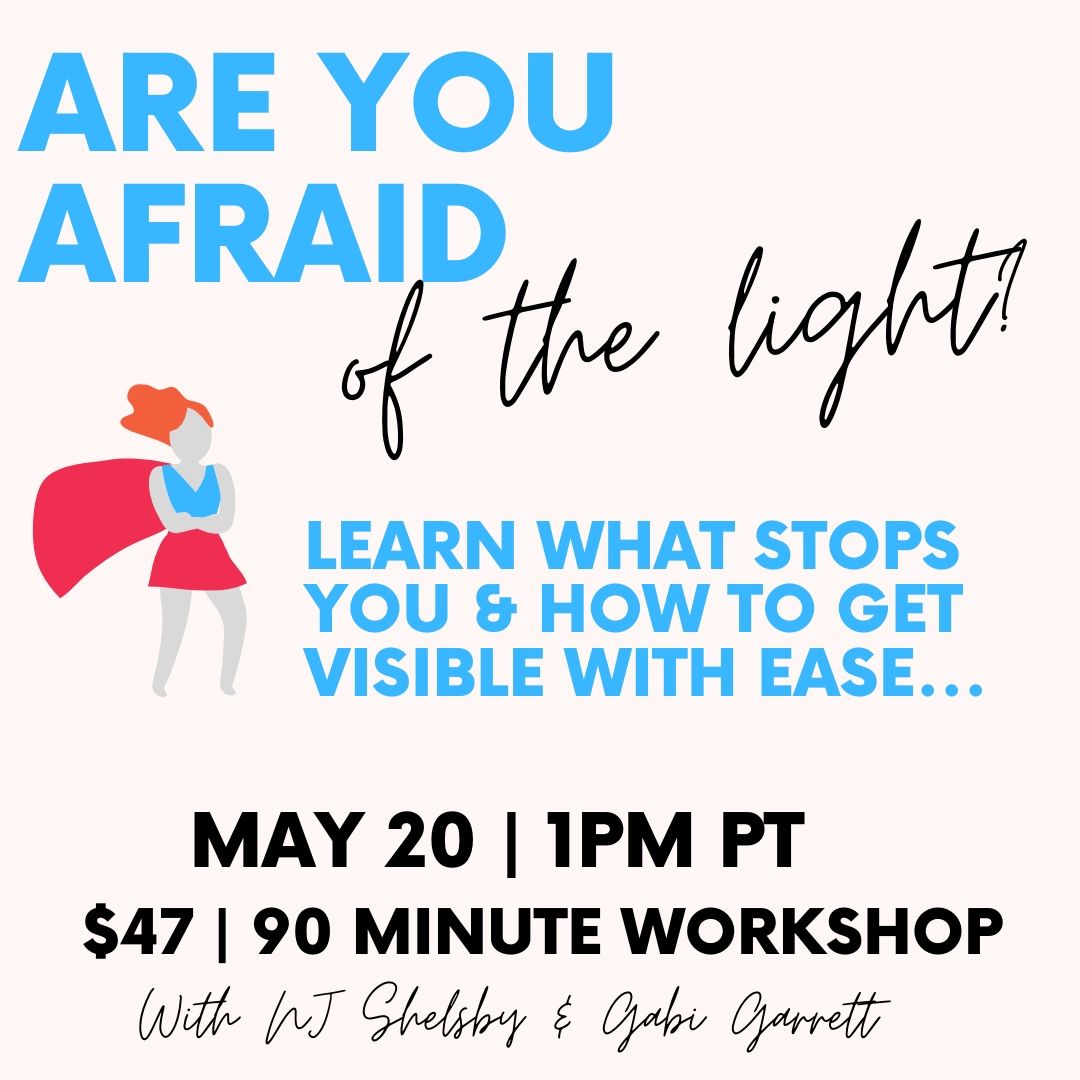 May 20, 2020 01:00 PM PST
We'll spend 90 minutes together:
The best part?!
It's only $47.
I help online business owners implement strategies to eliminate constant busyness and get super focused, so they have their most productive day ever.
Unlike other coaches who just give you the "you can do it" speech and then leave it up to you to do it, I actually help you to implement the strategies I give you. I use a process I created called the Neuro-Focus Shift Method (NFSM).  This process makes it easy to implement difficult changes like staying off social media, letting go of constantly checking email, and other focus stealing distractions.
Gabi Garrett is a published author, and journalist of over 150 platforms including USA Today, Buzzfeed, Apartment Therapy, Elephant Journal, Tiny Buddha, Sivana Network, and more. She now teaches other aspiring writers and spiritual entrepreneurs how to get their work published, and serves as a ghostwriter and publicist, utilizing her editorial connections with ease.